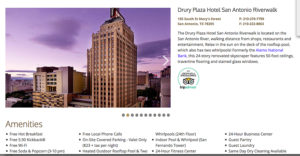 CHAPTER ROOM BLOCK – 2018 GIS
Book now! Our chapter room block is open for the Drury Plaza. The same great property everyone loved the last time! The hotel is 4 blocks from the convention center and is on the River Walk.
To reserve a room CLICK HERE TO RESERVE YOUR HOTEL ONLINE! Input access code is GISPPC0218520 – directions:
A box in the middle of the page will say "Please select your guest type" Click on the last drop down box option that says "I HAVE AN ACCESS CODE"
1) Input this access code: GISPPC0218520
2) Answer the questions within the small box asking for your dates. IMPORTANT – You are within our block at the Drury at this point – so it won't ask you what hotel.
3) Click on FIND.
4) Select your room type in the Drury Plaza and continue
5) The next page will have verify your selection and dates – click on NEXT
6) Complete your reservation information

We will be losing our block in a few weeks – please make your reservation at this time. If we fill up early enough we may be able to get more rooms added!
This property has great amenities and is mid-price range of the GIS conference hotels. Located on the San Antonio, Texas, River Walk, you are in the midst of all the great things the River Walk offers. With only a four-block stroll to the convention center, GCSAA bus service will not be available.
All rooms include microwaves and refrigerators, and free wireless throughout the property.
You can also enjoy two complimentary meals a day! Enjoy a free breakfast that includes hot items such as biscuits and gravy, scrambled eggs and sausage. From 5:30 – 7:00 p.m. each day, enjoy three beverage tickets for beer, wine, mixed drinks, or soda, as well as what you could enjoy as a snack or a meal – a variety of hot food that changes daily.